It is with deep sadness that Healthy Teens marks the passing of a remarkable lady, to whom we owe a huge debt of gratitude for helping in the establishment of Healthy Teens and our lauded Teen Health Educator program.
Marilyn Steele, AKA Norma Marilyn Harger Steele, was born September 13, 1925 in Cleveland, OH, the first child of Norma L. Harger and Sayrs Lester Harger.  Her early years were spent in Albion, MI, where she graduated from Albion High School in 1943 and was a Phi Beta Kappa graduate from Albion College in 1947.
She met Tom Clover Steele at Bay View, MI the summer of 1946, and they were married August 23, 1947. Tom was the son of Frances Clover Steele and Dr. Walter Barlow Steele.  Tom and Marilyn enjoyed 66 years of marriage.
On Maunday Thursday in 1955, they received their first child as a seven-week-old baby in a wicker clothesbasket whom they named Mary Frances after a grandma and a great grandma.  Three years later, 16-month old Charles Walter joined the Steele family.
In addition to being wife and mother, Marilyn was a counselor who also taught English at Flint Northern for 16 years.  There she experienced the fact that girls drop out of school for one reason chiefly: teenage pregnancy.  She received her master's degree from the University of Michigan in 1961. 
Marilyn was accepted into the Mott Fellowship Program in 1967 at Michigan State University from which she graduated with a PhD in 1970 in higher education management.  She never returned to education; instead she was employed by the Charles Stewart Mott Foundation as a Program Officer.  Her career opened the possibility of research and programs to reduce teenage pregnancy.  Teaming with the Ford Foundation, Dr. Pamela Brown and Dr. Steele visited those Washington, D.C. federal agencies most closely associated with the impact of teen pregnancy. 
At the invitation of the American Vocational Association in 1975, Marilyn Steele wrote "Women in Vocational Education" which summarized the data on discrimination against women throughout education with documentation on teen pregnancy as the cause of female school dropout.  When Title IX of Vocational Education passed, public schools were required to educate pregnant and parenting teens.  Dr. Steele's book was used as the primary source for the vocational education amendment that prevented pregnant and parenting girls from being removed from school. She was also the expert who testified before the US Congress on this issue.
Marilyn also was actively involved in the development of Community Policing as a result of the Neighborhood Foot Patrol of the City of Flint, MI with a grant from the Mott Foundation.
The Steeles' bought a cottage on Lake Leelanau as a vacation home in 1978.  For more than 40 years, they spent vacations and summers in Leelanau County, MI.  Their last vacation home was a 150-foot saved bluff of Lake Michigan frontage four miles north of Northport, MI.  Marilyn retired in 1990.  Her sister and husband, Eleanor and Norman Burgess, joined Marilyn and Tom in Manatee County, FL as permanent residents for eight months of the year.
During retirement Marilyn was an active member of Alpha Xi Delta alumnae where she would say proudly "My mother joined Phi Chapter of Alpha Xi Delta in 1922; I joined Phi Chapter of Alpha Xi Delta in 1944.  My sister joined Phi Chapter of Alpha Xi Delta in 1949.  My daughter joined Phi Chapter of Alpha Xi Delta in 1973; and my granddaughter joined Beta Theta Chapter of Alpha Xi Delta in 2013."
Marilyn was an active member of AAUW Manatee County Branch, serving one year as President.  She was an active member of the Democratic Party serving as President of Manatee County Democratic Women's Club.  She was a member of Anna Maria Island Democratic Club also.
Marilyn and Tom Steele established an endowment fund in the United Methodist Foundation of Michigan in 1984 enabling them to provide charitable gifts.  Marilyn was the founding member of the Leelanau County Women's Foundation, which became the Genuine Leelanau.  The Women's Foundation sponsored the first Farmer's Market.  With Jim Bargenhagen, Marilyn founded the Leelanau Farmer's Markets.  In Leelanau County, the Steele Endowment Fund concentrated on grants for the arts. 
In Manatee County, FL, the Endowment has concentrated on music as well as on teen pregnancy prevention.  Dr. Steele was the founding member of The Bradenton Symphony Orchestra.  She served three years on The Pops Board of Directors and supported the Music Department of the State College of Florida with emphasis on instrumental music. 
A lifelong United Methodist, she joined the Pilgrim Church, the Congregational United Church of Christ.  Throughout her retirement, Marilyn was not only an active volunteer, but she also traveled widely.  At age 85, she discovered her father's second family and inherited two high sisters with whom she forged a strong bond of love and kinship.  A genealogy interest grew, and the sisters shared ancestry from European royalty to 14 Protestant pilgrims aboard the Mayflower through of who married Daughters of the Dawn, the matriarchal Indian tribe who prepared the venison dinner for the first Thanksgiving. 
In 2013, Dr. Steele became associated with Healthy Teens and provided the initial seed investment to begin the Teen Health Educator Program, a now nationally, statewide and locally respected program that trains youth to provide health education and mentoring to their peers, empowering them to make positive, healthy decisions for their success and well-being. In 2018, Healthy Teens presented Dr. Steele with a special Lifetime Achievement Award for her dedication and work with at-risk youth in Manatee County.
Marilyn rejoiced when U.S. teenager pregnancy reduced to 1940's levels, celebrating goal achievement after 40 years.  She was the last surviving member of her original family when she died at age 96 on May 24, 2022 in Bradenton, Manatee County, Florida.
Thank you Dr Steele for your incredible dedication to our youth, and helping secure a legacy for Healthy Teens that we hope will last for decades to come.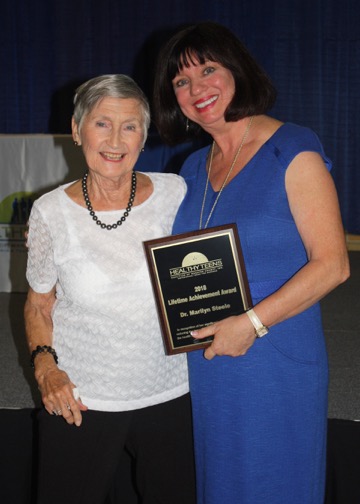 Mary Ann Legler, Founder and Board Chair of Healthy Teens presents Dr. Marilyn Steele with the Lifetime Achievement Award at the 2018 Healthy Teens Youth Awards.